CAS No. 95-71-6
Synonyms: Methyl Hydroquinone; 3-Methyl-1,4-Dihydroxybenzene;
2-Methyl Hydroquinone; 2-Methyl-1,4-Benzenediol; 2-Methylhydroquinone

2,5-Dihydroxytoluene; P-TOLUHYDROQUINOL; P-TOLUHYDROQUINONE; Toluhydroquinone; THQ

Molecular Structure: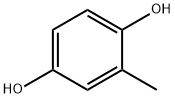 physical Forms:
White Crystal Powder - Assay 99 %

specifications:


assay 99 % min
Melting Point 126 c min
residue on ignition 0.04 Max
Amsyn Product Code: C-U
Hazmat INFORMATION:
UN #: 3077
Class: 9
Packing Group: III
Packing:
Drums: 55.115 lbs per Drums
One Pallet 18 Drums per pallet
Storage Locations:
Cleveland, OH

Applications:
It is used as a stabilizer for unsaturated polyesters and as an antioxidant for fatty esters, linseed oil, and other nonfood fats and oils.

It is used as a stabilizer to inhibit peroxide formation in ethers, chlorinated hydrocarbons and ethyl cellulose.

It is also used as an intermediate to manufacture other stabilizers, dyes, pharmaceuticals and plasticizers.